What makes us feel most feel at home when we are on holiday? Eating well. Here at the Hotel Irene in Riccione we firmly believe so. That is why we have been taking care of the well-being of all our guests starting at the table, for over 50 years.
We take care of our cuisine personally, doing the shopping every day and selecting the best products of the day, following a strict rule: genuineness and tradition.
This is what makes the restaurant service of the Hotel Irene an absolute point of strength, appreciated by all our guests.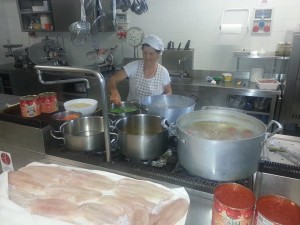 We aim at pleasing everyone's tastes, fully respecting the traditional cuisine from Romagna, asking about client preferences and trying to meet everyone's needs. One must never forget our philosophy: guests are at home here.
Everyday For lunch and dinner we serve 2 menues with a selection of meat and fish, with dishes prepared with products from our inland and from the Adriatic sea and handmade pasta!
A very rich buffet with the most appetizing salads and vegetables accompanies the menu For lunch and dinner.
And… surprise! Every evening Eugenio will serve a dish especially prepared by him for a really surprising dinner.
Every Sunday here at the Hotel Irene we have a celebration. How do we celebrate? With an aperitif served in the garden before the traditional Sunday lunch.
Tiny guests, as we know, are always the ones who need more attention, and we are pleased to provided it to all of them. For them there is a dedicated menu and the restaurant opens at flexible hours to suit them.
And for those who have food intolerances gluten-free cuisine is available.